OFOAM and the Ogden Music Festival are delighted to accommodate everyone, within our ability, with the accessibility they need to enjoy the fun!
Accommodation Request Form
Please complete the 2024 Ogden Music Festival Mobility Disability Accommodation Request Form by April 15, 2024 if you require ADA related camping or parking accommodations.
If you wish to park in the ADA parking section you will need to purchase a Vehicle Parking Pass. If you with to camp overnight, you will need to purchase a Vehicle Camping Pass.
Upon arrival to the festival present your handicapped placard, and inform volunteers of your accessibility request, and they will direct you toward ADA camping or parking, located in close proximity to the entrance, portapotties, food vendors, and music.
Please click HERE by April 15, 2024 to complete the online 2024 Ogden Music Festival Mobility Disability Accommodation Request Form.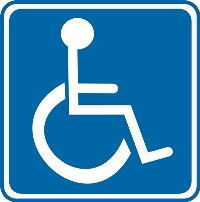 Questions During the Festival?
During the festival, please direct your questions regarding accessibility accommodation to the Ticket Booth.

Policy and Procedure for Service Animals
If you are wondering why you can't bring your pet or non-service animal, these animals compromise the health and safety of festival patrons and legitimate service animals. We have therefore developed a service animal policy and procedure. The policy and procedure will be strictly enforced and implemented in the interest of ensuring that bona fide service animals are permitted and all other animals are prohibited from The Ogden Music Festival. By law, if an animal's purpose or task is to provide protection, emotional support, well-being, comfort, or companionship, it is NOT considered a service animal and may NOT come to the festival.
Service Animal Policy
Qualified and bona fide service animals are welcome at the Ogden Music Festival. Pets and non-service animals are NOT permitted. It is a crime to misrepresent a pet as a service animal. Those who bring their non-service animals to the festival will be ejected from the festival site without refund.
All service animals must be trained for a specific function, related to a disability, housebroken, leashed and under the direct control of their handler at all times. If any handler does not adhere to these conditions, the handler will be asked to remove the animal from the site. The handler then may return without the animal.
OFOAM reserves the right to refuse admittance to or eject any individual whose conduct poses a direct threat to the health or safety of other individuals or service animals.
Service Animal Procedure
Any Ogden Music Festival patron arriving at the festival with a service animal will need to have their service animal credentialed at the Ticket Booth. This process should not be feared, as it will be conducted with respect and understanding. After the service animal has been credentialed by festival staff, important information will be provided to the disabled individual. Once your service animal has been credentialed, staff are not likely to question you again unless the animal causes a problem. Any patron bringing a non-service animal will be not permitted onto the festival grounds.