"This music (LosTexmaniacs) is not a dusty museum relic, but a vital heartbeat for a group of folks who truly have one foot on either side of the border and live a daily code-switching identity." —NPR Alt.Latino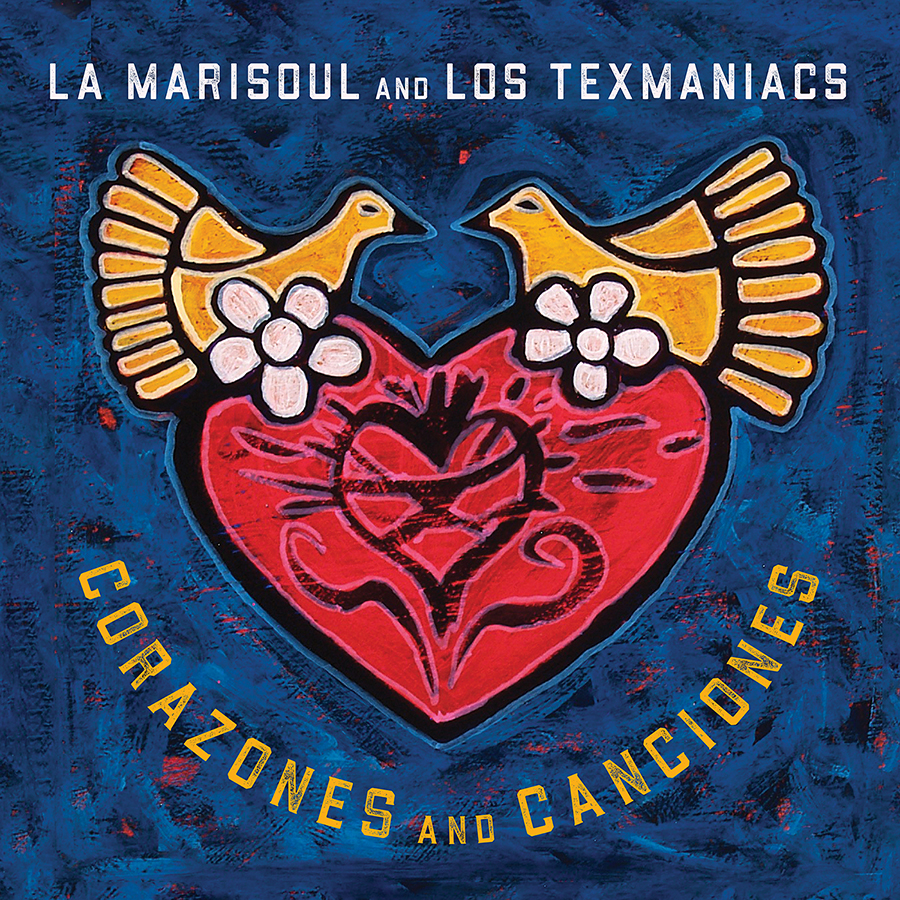 On April 7th, GRAMMY-winning artists San Antonio-based Tejano conjunto Los Texmaniacs and Eva Marisol "La Marisoul" Hernández (of LA-based band La Santa Cecilia) will release their next album, Corazones and Canciones, together on Smithsonian Folkways. A 15-song collection of generation-spanning Mexican-American classics from all over the US (Los Canciones), the album celebrates the love, joy, and the ineffable feeling that music can evoke, while simultaneously shining a light on the importance of Mexican-American music within the overall American Roots tradition. This music makes clear that Mexican-American music is American music with life-affirming energy and passion. Ranging in sound from dancehall and conjunto polka-beats to romantic Tejano guitar (all accented by La Marisoul's booming, soulful vocals, and Los Texmaniacs' exuberant playing), each song was chosen for its heart, emotional potential, and ability to connect people across age, place, and time (Los Corazones).
While working on Corazones and Canciones, one of the feelings that La Marisoul and Max Baca, Los Texmaniacs' Albuquerque-born, San Antonio–based leader and bajo sexto maestro, aimed to capture was the sense of belonging that being part of the extended Mexican-American community can bring. Though they are not related by blood, La Marisoul and Baca (and the rest of Los Texmaniacs) were deeply inspired by that specialness of being Mexican-American and that sense of community - of being primos" (cousins). La Marisoul said of her fellow Mexican-American musicians: "They make me feel like I belong to something now. I have my primos, Los Texmaniacs." Though they may be from Albuquerque, while La Marisoul was born, raised, and lives in Los Angeles, "they mix it up, too, and we're related, you know? And I love that … I'm a sister from a different mister." In evoking that sense of belonging, La Marisoul and Baca also made sure to represent the diversity of Mexican-American people and culture, celebrating the idea of a rich community while rejecting that of a monolith. In that sense, at its core, this is an album that is deeply American - emblematic of the Melting Pot nature of a nation of immigrants, and the way that American folk music has developed over time to be an amalgamation of regional styles, languages and dialects, traditional instruments, and more. "There's borders and things that tell us where we are, but the music is happening here, so it's just as American as it is Mexican and Tejano and Californiano, and it's beautiful. I think that's one of the special things about living in the United States. A lot of worlds can fit here, and it's built on that. It's built on muchos mundos, mucha gente de muchos mundos [many worlds, many people from many worlds], so American music can also be in Spanish, can also have a Tejano conjunto swing, you know? In the end, what we're making is American music."
When making the selection of which American roots songs to cover on the album, making sure to represent that diversity within Mexican-American music was the easy part. Choosing the songs with the most emotional power, the most heart, was the real work. For Baca, the songs needed to be classics—songs that have been around for generations because they have touched people's deepest feelings, and people in turn have made them part of their lives and poured their sentiments into them. "Everything that we did in this whole project is done with the heart and soul, because of the passion and love we have for this music. . . . The corazón is the heartbeat; everything comes from the heart. If you're not doing it from the heart, then you have no business doing it."
La Marisoul summed up her and Los Texmaniacs' intentions for the album: "We are storytellers—and provokers. We want to provoke something, like feeling, because we're human. We need to feel that we're alive, because, man, that's all we have—life, you know?"
Corazones and Canciones is the fourth Los Texmaniacs album on Smithsonian Folkways, and the first for La Marisoul.