Workshop Stage
Each year the Ogden Music Festival provides exciting opportunities for experienced as well as aspiring musicians to learn from our performers at the Workshop Stage.
Workshops, a tradition since the first OFOAM Festival, provide an intimate environment to get a closer look at the main-stage performers, their instruments and techniques. Learn from the unique collaborations of festival artists about band dynamics for all ages, instrument playing, songwriting, vocals or just see and hear more of your favorite band.
Saturday
12:45 The Singing Fiddler, Kate MacLeod

This workshop will cover the topics of arranging a song with your fiddle or your accompanying instrument, fiddle accompaniment techniques for songs, and how to think of your voice as an instrument.

1:45 Get to Know the Dellas

Come hang with Della Mae as they share stories of diplomacy work with the State Department and play a few songs in an intimate venue.

2:45 A Master Class in Humanity: Songwriting and Performance, John Craigie-Style
3:45 Bluegrass Basics with Harry Clark and Maddie Denton of the Dan Tyminski Band

Bring your instrument! Harry and Maddie play mandolin and fiddle, respectively, but this workshop is open to all instruments and ability levels! The workshop will largely focus on the fundamentals of playing in a bluegrass band, jam ideas and etiquette, improvisation, and listening. However, your instructors truly want to help in your musical journey, so this workshop will be geared toward what you WANT to learn, rather than being glued to a planned script. It'll be interactive and fun, so come join us!

4:45 Playing Guitar And Dobro In A Bluegrass Band with Dan Tyminski & Gaven Largent of the Dan Tyminski Band

Come on down with your instrument and your questions, and we'll dig in to what YOU want to learn!
Sunday
12:45 Songwriting with Others - Chatham Rabbits

Partners in music and life, Sarah and Austin McCombie of Chatham Rabbits know the innate joy and struggle of co-writing. In this workshop, Sarah and Austin will look at several of their own songs and dissect how the words and music came to be, and the steps they took to arrive at the finish line. Workshop participants will get a look at a few unfinished Chatham Rabbits songs and will have the opportunity to share lyric ideas and melody suggestions. Participants are encouraged to ask questions and to bring their own lyrics to share.

1:45 Los Texmaniacs featuring La Marisoul

Join San Antonio-based Tejano conjunto Los Texmaniacs and Eva Marisol "La Marisoul" Hernández (of LA-based band La Santa Cecilia) as they discuss, demonstrate and take questions on their latest project. While recording Corazones and Canciones, together, the collection of generation-spanning Mexican-American classics from all over the US, they celebrate the love, joy, and the ineffable feeling that music can evoke, while simultaneously shining a light on the importance of Mexican-American music within the overall American Roots tradition. This music makes clear that Mexican-American music is American music with life-affirming energy and passion. Ranging in sound from dancehall and conjunto polka-beats to romantic Tejano bajo sexto and accordion, each song was chosen for its heart, emotional potential, and ability to connect people across age, place, and time.

2:45 Banjo, Bass, and Our Bluegrass Family with Grace and Jason Davis of the Dan Tyminski Band

If you play a bluegrass instrument that starts with a B, this workshop is for you. Bring your instrument and your questions, and we'll dig in! And if you're brave enough to ask, we might answer questions about what it's like being a married couple playing in the same band.

3:45 Hammer Time: Clawhammer Banjo with Melissa Chilinski

Join Melissa for an introduction to the history, basic mechanics, and beauty of modern clawhammer banjo. Using clawhammer for old time music, bluegrass, and songwriting, Melissa will demonstrate new applications and basic techniques for this old style of playing. Education will include right-hand techniques, favorite banjos and tone rings, and a beginner and intermediate/advanced tab for an old-time song.
Jam Camp
Bring your instruments to the Jam Camp east of the main festival entrance in the campground and jam with your favorite mainstage artists for 30 minutes and jam with your fellow festivarians anytime! The camp has a relaxed atmosphere. Grab a snack, drink and kick back to play some tunes. The space welcomes everybody and the only expectations are to be inclusive and have fun. Main Stage artists are our special guests! Jammers are thrilled for the opportunity to socialize and pick. The camp is hosted by Nathalie Ozberkmen who will introduce artists and encourage the music. Watch this space and the schedule posted at the jam camp for other mainstage artists to be added.
Saturday
2:00 Pompe n' Honey
2:30 The West Road
3:15 Della Mae
4:30 Kate MacLeod
5:45 Miko Marks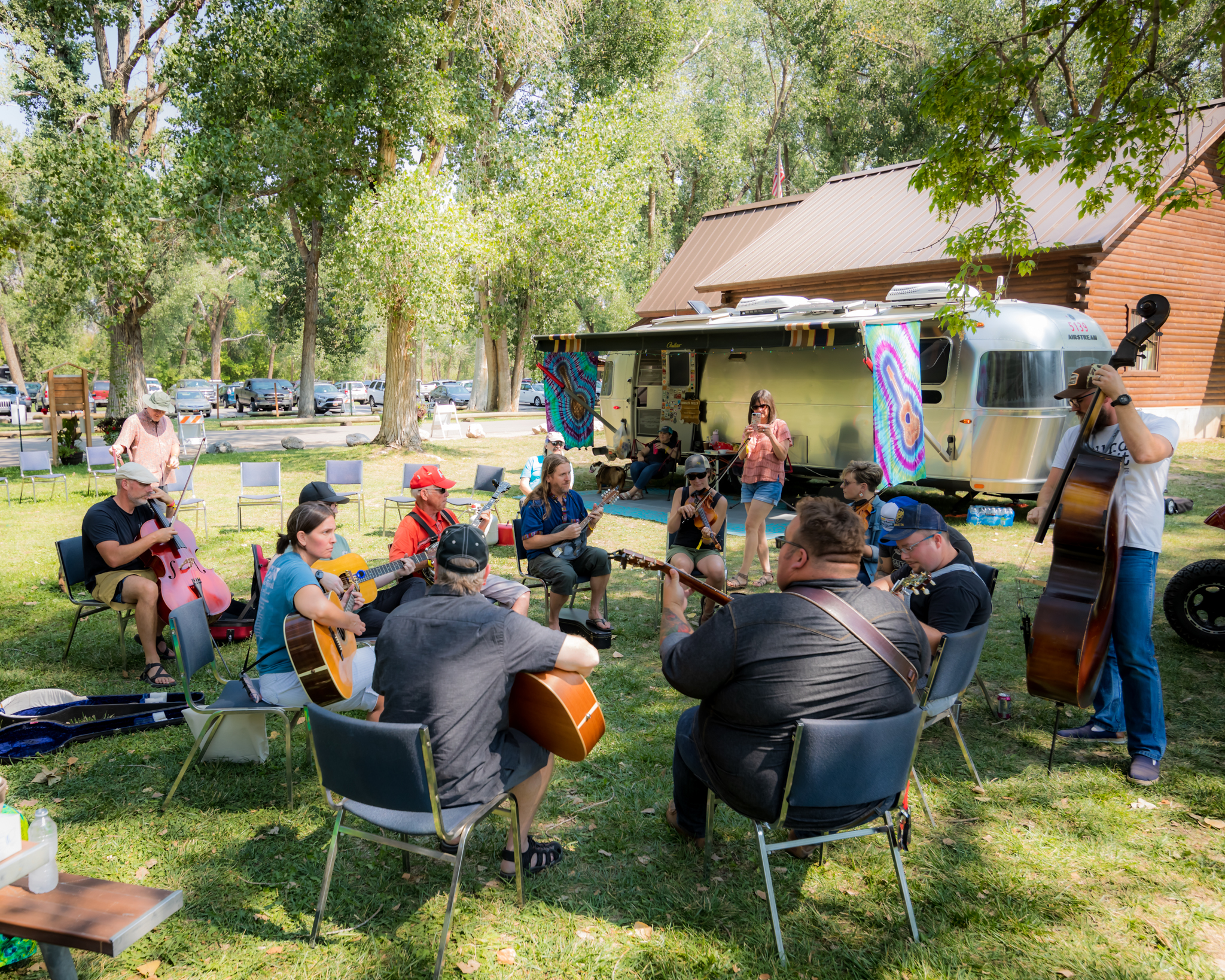 Sunday
2:30 Chatham Rabbits
3:15 Pixie & The Partygrass Boys
3:45 Miko Marks
4:45 National Park Radio