Workshop Stage
Each year the Ogden Music Festival provides exciting opportunities for experienced as well as aspiring musicians to learn from our performers at the Trader Bowery.
Workshops, a tradition since the first OFOAM Festival, provide an intimate environment to get a closer look at the main-stage performers, their instruments and techniques. Learn from the unique collaborations of festival artists about band dynamics for all ages, instrument playing, songwriting, vocals or just see and hear more of your favorite band.
Saturday
10:00 AM Weber Book Links Presents: Acoustic Poetry and Stories

Host: Abraham Smith, Readers: Rachel Delle (Sky Ridge High School), Abby Wilde (Herriman High School), Kase Johnstun, Laura Stott, Maurya Brand, Willy Palomo

1:00 Scott Gates (AJ Lee & Blue Summit): Mandolin

The newest member of AJ Lee & Blue Summit, described as a fun-loving and remarkable musician, Scott Gates is yet another product of the California Bluegrass youth movement. He began playing piano at 3, mandolin at 7, fiddle/guitar at 11, vocals/stand-up bass at 13, and three-finger banjo at 22.

2:30 How to Grow a Song From the Ground with Missy Raines & Allegheny - Part 1

Join us for 2 workshops that will take you step-by-step through the process of learning a song. We'll cover what to play, what to sing, ideas for arrangements, and more. This will be a hands-on workshop so bring your instrument and join in! Attending both workshops is encouraged but not required. All levels welcome.

3:45 How to Grow a Song From the Ground with Missy Raines & Allegheny - Part 2
5:00 Join the Cockophony - Fiddle around with Big Richard

Learn a fiddle tune with members of Big Richard (Joy Adams on cello, Eve Panning on fiddle, Emma Rose on bass, and Bonnie Sims on mandolin). We'll learn a tune, talk about arrangement ideas, and cover some of our favorite fiddling techniques. Remember, it's not about the size of the fiddle, it's about how you use it!
Sunday
10:00 AM Weber Book Links Presents: Acoustic Poetry and Stories

Host: Kase Johnstun, Readers: Claire Batterman (Kearns High School), Porter Lunceford, Courtney Craggett, Abraham Smith, Ashley Farmer

12:30 Carolyn Wonderland and Shelley King: Two Guitars and the Truth
1:30 Blind Boy Paxton: More Songs and Stories
4:30 Stillhouse Junkies: Creating that Band Sound

From the first note of each to the last, learn how to take your arrangements to the next level, regardless of ensemble size or instrumentation. Add the sort of clarity, purpose, and narrative depth to your material that will expand your musical horizons and keep listeners coming back for more. Intended Audience: Anyone looking to tighten up existing song arrangements or arrange new material for performance, jam, and even hobby settings.
Jam Camp
Bring your instruments to the Jam Camp by the Visitor's Center and jam with your favorite mainstage artists for 30 minutes or jam with your fellow festivarians anytime! The camp has a relaxed atmosphere. Grab a snack, drink and kick back to play some tunes. The space welcomes everybody and the only expectations are to be inclusive and have fun. Main Stage artists are our special guests! Jammers are thrilled for the opportunity to socialize and pick. The camp is hosted by Nathalie Ozberkmen who will introduce artists and encourage the music.
Saturday
2:00 PM AJ Lee & Blue Summit
2:30 PM The Proper Way
4:30 PM Blind Boy Paxton
6:00 PM Big Richard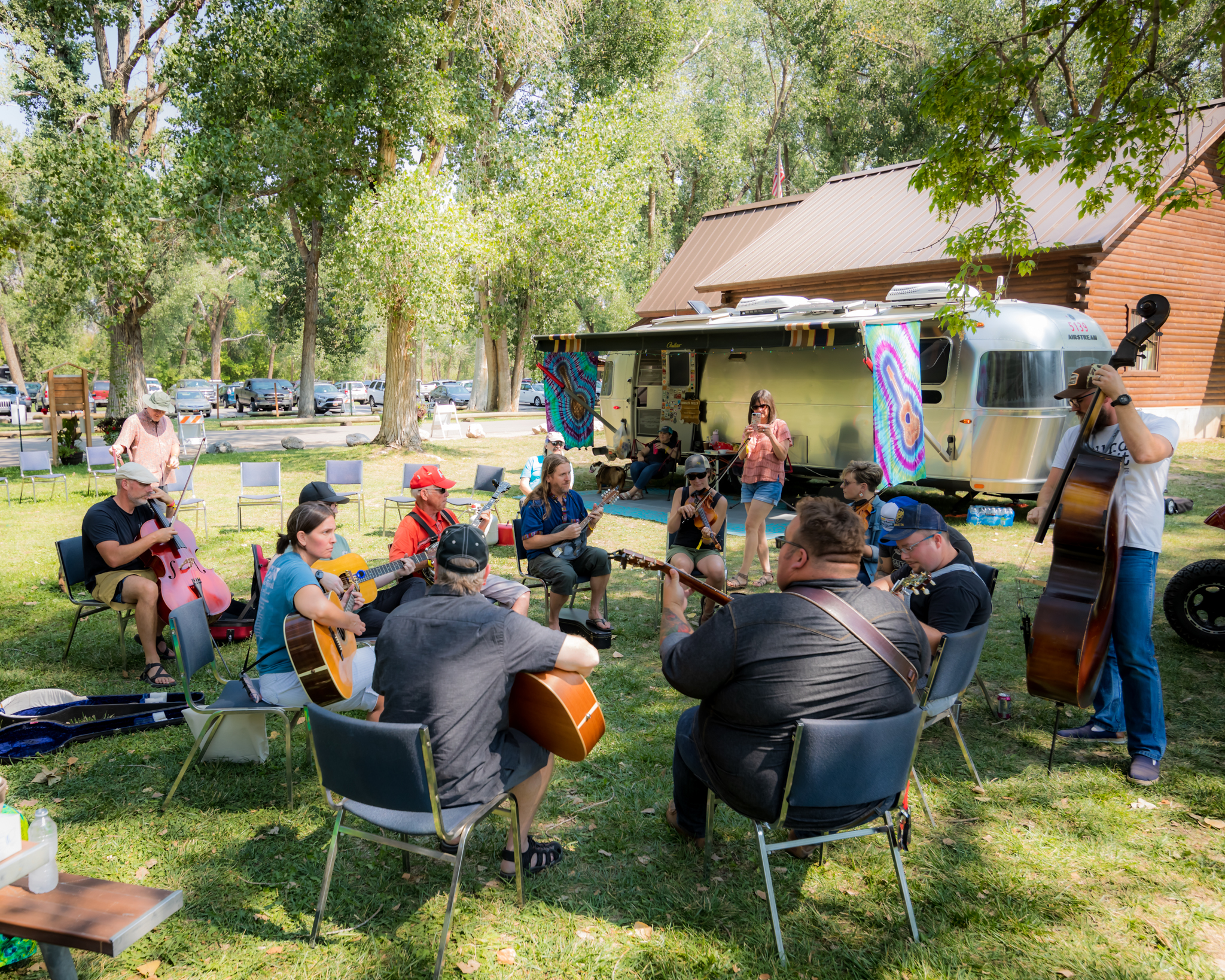 Sunday
1:00 PM Stillhouse Junkies
2:30 PM David Burchfield & The Fire Guild
4:00 PM Missy Raines & Allegheny